History
---
Like the establishment of Toowoomba city itself, the history of the Downs Club stretches back to the 19th century.
---
Establishment
The Club was established on Saturday 20 July 1889 by several businessmen with the aim to connect and socialise with other like-minded men.
The first site was the Club Hotel on the north-eastern corner of Margaret and Ruthven Streets, in a couple of rooms set aside for members.
Within a year the Club membership grew and demanded a larger premises. The committee drew up a tenancy agreement to lease new rooms exclusively for members at the Club Hotel at the rent of £100 per annum for three years. In November 1899 the committee purchased a parcel of land (the current Club site on the corner of Margaret and Mylne Streets) and built a new Club house which was completed by May 1900. A ball was held to celebrate the opening on Tuesday 3rd May 1900.
Two ant bed tennis courts were laid down in 1915 and after many years of enjoyment were replaced in 1985 by a grassed area and garden beds.
The Club celebrated its Centenary in 1989 with a ball and the addition of a newly built function room which has been aptly named the Centenary Room.
In 2013 the kitchen was fully renovated into a modern commercial facility to continue to provide the high quality of catering that the Club is renowned for by both members and function guests.
The Club celebrated its 125th year in 2014 and hosted some fantastic events to commemorate the milestone, including a themed ball with a nod to the inaugural Downs Club ball held in 1900.
The Downs Club continues to be a venue popular with gents seeking privacy combined with quality food, beverages and exclusive Club events. The latest improvements to the buildings and surrounds offer to members a congenial meeting place. This warm welcome is also extended to members' wives/partners and colleagues.
The same camaraderie between members exists, which is pleasing given the intention of The Downs Club founders over one hundred and twenty-five years ago.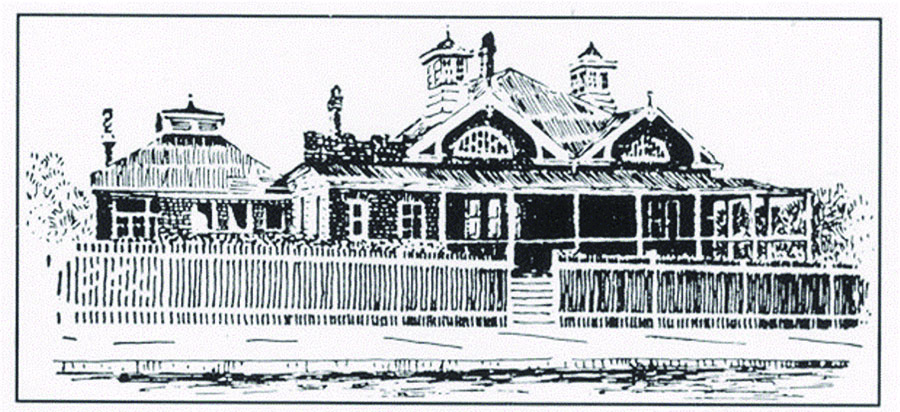 The Downs Club newly built clubhouse circa 1900